Good thing:
I got
Media Profile
's Spirit Award this year! It actually
used
to be the Spirit Award, but has since been renamed the
Michael O'Connor Clarke award
. Proper thing. It's amazing, I am rarely the one to win things. I'm so proud and flattered and got hammed accordingly afterwards.
The bell. The bottom plaque says 'The Michael O'Connor Clarke Award', and then my name and the year are engraved up top. Preeeeeeeetty, preeeeeeetty cool.
But now bad thing: my Debbie is missing :(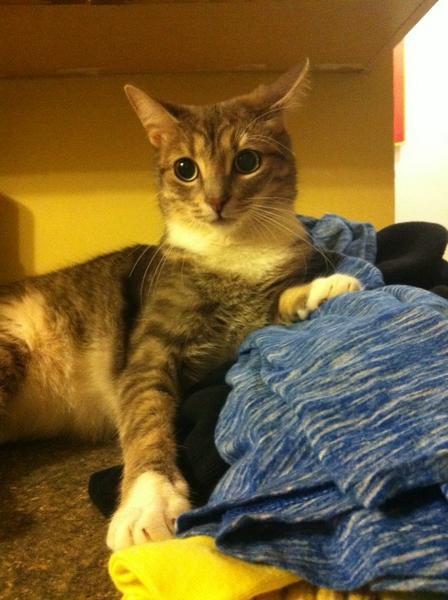 She got out at some point in the last 36-48 hours and has been gone since. We are worried sick, combing the neighbourhood shaking salmon treats, pointing the laser pointer that she loves everywhere in hopes of drawing her out of a hiding spot or something. Debbie is an indoor kitty, and a spoiled bitch of a one at that, she isn't made for the dark and risky outside world! Ohhhhhhh, Debbieeeeeeeee. Please be okay. It's supposed to get really cold this weekend, you need to be inside with your family baby.
UPDATE:
DEBBIE CAME BACK, DEBBIE CAME BACK! Thank fucking christ. We went out every couple hours on Wednesday and Thursday, shaking treats, wagging an open can of wet food, zipping her red laser-pointer all over the places in hoping of grabbing her attention, posting LOST ads on Craigslist and Kijiji (some butthead even texted me pretending they'd found her, trying to mess with me. Lesson to me: don't post your phone number in online ads. Lesson to butthead: don't mess with my emotions or you will have evil wishes rained down upon you and yours for hours, even days, afterwards!) and nothing. We were so miserable. We were like, well we have to do something! Okay, tomorrow we'll print MISSING posters and put them up all over the area. We'll call the shelters. We'll go out with her food again. We'll, we'll, we'll. I was so nervous as I knew the weather was expected to be really cold this weekend. oh goodness, my little, small-framed-to-begin-with baby out in zero degrees - I'd have died!
What we finally came up with was this - I'll lock the cats in one of the spare rooms with food and litter. Andrew will sleep on the living room couch. We'll leave the front door open like 6 inches, just enough for her to fit through if she comes back in the middle of the night, which we just had a feeling she had probably been trying to do. And she freegeeng deed! What a
relief
. Andrew came into the bedroom with her at like 3 am going, "Annie. Debbie's home!" I mean I BOLTED upright in the bed before the words were even out of her mouth and hugged her smelly arse so real-ly. It was a thrilling moment. She did smell though; like super, super stale cheese and garbage. She was definitely digging in garbage. Gross.
Pin It